I recently went to Mumbai to visit my family.
It was only a short trip, but while I was there my family and I cooked up some of our favorite Indian street foods and I wanted to share the recipes with you.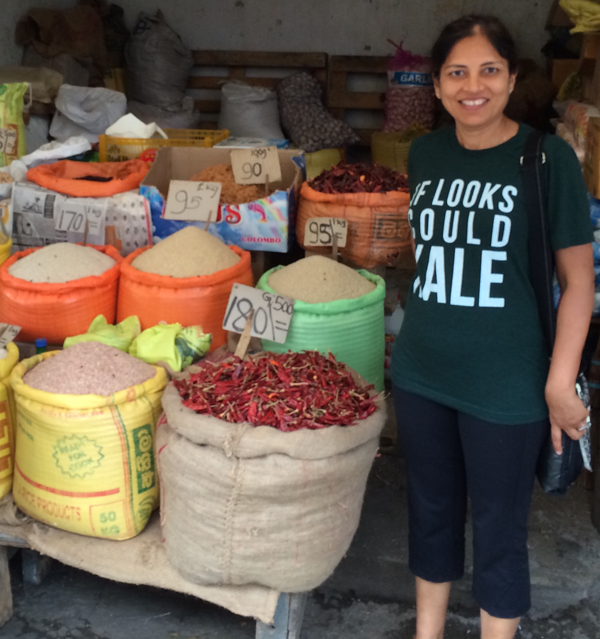 (This is me at a local market. Like the t-shirt?! My friend Taryn makes them. She has some great designs at her website Vegetaryn.com, if you like fun plant-based tees)
Pav Bhaji
The first recipe I wanted to share is for Pav Bhaji.
This is my sister-in-law, Alpa Thacker's, recipe, which I was delighted to get because Alpa is known for making a killer Pav Bhaji! (Thanks Alpa!)
Pav Bhaji is one of the most popular Indian street foods. Its origins are rooted in the streets of Mumbai, specifically the all-night food vendors of old Mumbai.
It's a mash of assorted vegetables called bhaji, meaning vegetables, cooked to an almost creamy texture and spiced with a fiery chili garlic sauce. It's served with pav or pao, which means bread in Portuguese.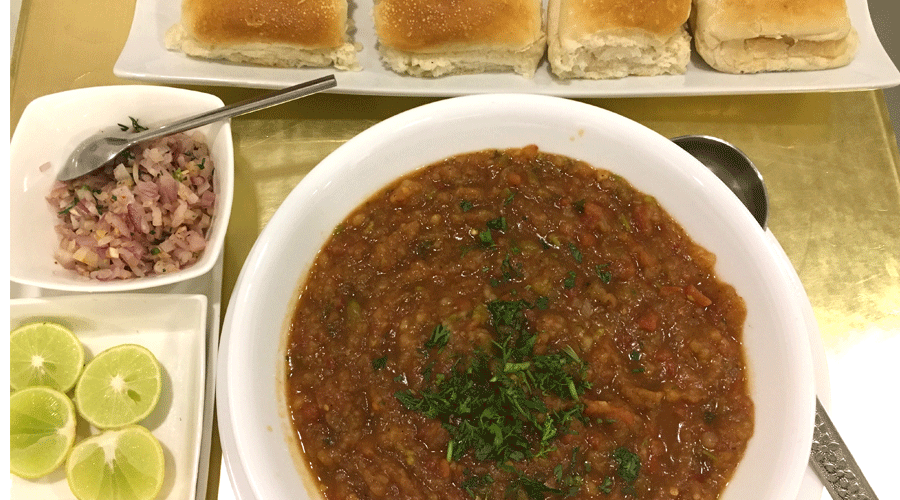 In American terms, Pav Bhaji is a Sloppy Joe on fire. As in, it's very spicy!
(Of course you can always add less spices if you prefer a milder dish.)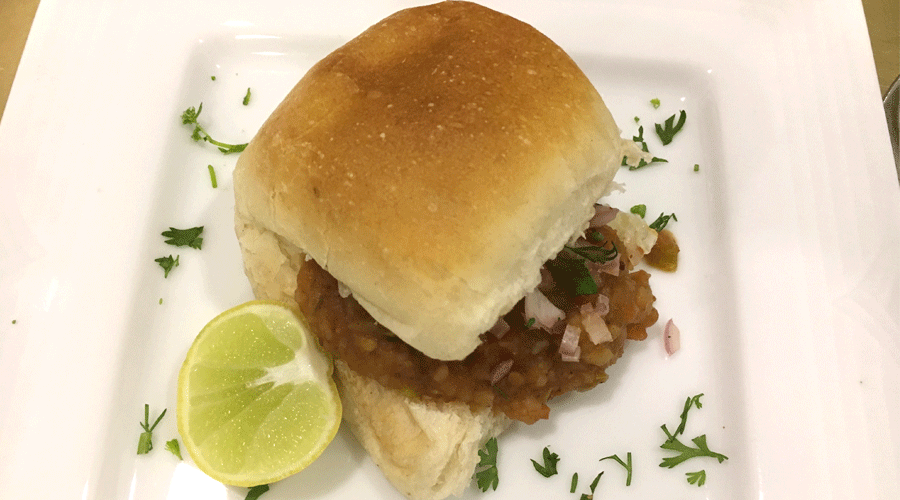 The other thing you should know about Pav Bhaji is that like many dishes in Indian cuisine it requires a special blend of spices, called masala.
Which, handily enough, you can find at any Indian grocery store!
Let's get to it shall we.
Here's how to make it:
The recipe:
Pav Bhaji

Print recipe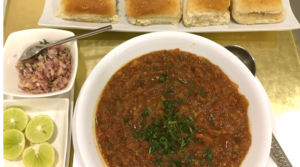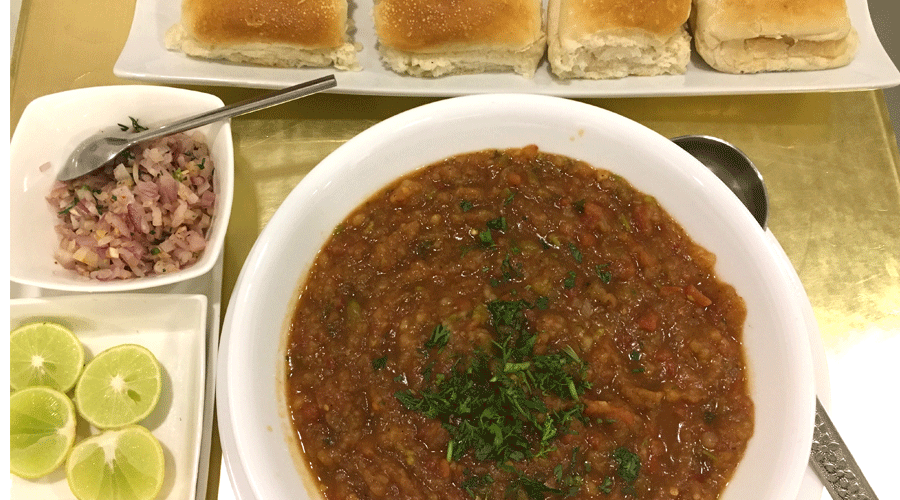 | | |
| --- | --- |
| Serves | 8-10 |
| Cook time | 1 hour |
Ingredients
3 Large yukon potatoes (2.5 pounds), cut into large pieces
1 Medium onion, cut into 1/4 inch diced, (2 cups. Reserve 1/4 cup for garnish)
1 Green bell pepper, cut into 1/4 inch diced
3/4 cups fresh or frozen green peas
4 Medium tomatoes, cut into 1/4 inch diced (4 cups)
4 Medium tomatoes, pureed (4 cups)
8-10 Mild red chile pods, deseeded
8-10 cloves garlic, minced (about 1 tablespoon)
1 tablespoon Pav Bhaji masala (store bought)
1/2 cup fresh cilantro, finely chopped (reserve 1 tablepsoon for garnish)
2 tablespoons lime juice
Sea salt
8-10 Whole wheat burger buns
2 Limes, sliced into small wedges
Directions

| | |
| --- | --- |
| 1. | Steam the potatoes in a steamer for 20 minutes, until tender when poked with a fork. Let them cool. Mash to a coarse texture. |
| 2. | In a bowl, soak the red chile pods in 1 cup of water for 20 minutes. |
| 3. | In a skillet, saute the onion with 1 to 2 tablespoons of water. Sir frequently and cook covered for 10 to 15 minutes until soft and lightly brown. Add more water as needed to keep the onion from sticking to the pan. |
| 4. | Add the bell peppers and continue to cook for another 10 minutes until tender. Add the green peas and mash using a potato masher. Mix well. |
| 5. | Add the tomatoes and tomato sauce and mix well. Cook on medium-high for another 10 minutes, until the tomatoes are cooked and tender. |
| 6. | Drain the chile pods and transfer to a blender. Add the garlic and blend into a smooth paste. Add a little water if needed. |
| 7. | Transfer the past to another skillet and cook on medium-low heat for 5 minutes, add 2 tablespoons of cilantro, Pav Bhaji masala and lime juice. Add 1/2 cup of water and continue to cook for 5 minutes until the liquid has been absorbed. |
| 8. | Transfer the spice paste to the vegetables, add the potatoes and mix well. Bring to a simmer. |
| 9. | Add 2 more tablespoons of cilantro and mix well. |
| 10. | Open each bun while keeping the 2 halves still attached if possible. Toast in a skillet or a griddle on each side for 3 to 4 minutes until lightly toasted. |
| 11. | In a mixing bowl, mix the reserved onion and cilantro. Garnish the Bhaji with the onion mix and a squeeze of lime juice and serve with the hot buns on the side. |
I hope you enjoy it!
Darshana
XX
PS: Let me know what you think!
Save
Save
Save
Save
Save
Save
Save
Save
Save
Save
Save
Save
Save