Shepherd's pie is usually an elaborate dish with lots of ingredients.
Not this one!
This is a recipe I came up with when I was experimenting with living on $5 a day (for my 10-day $5-a-day challenge).
I made this on Day–1, and in spite of having minimal seasonings and fresh ingredients, it turned out to be a good recipe to share!
The base of lentils and beans combined with ginger and cumin give it some real zing. And the garlic and lime juice really brings the vegetable filling alive.
Spinach Shepard's Pie

Print recipe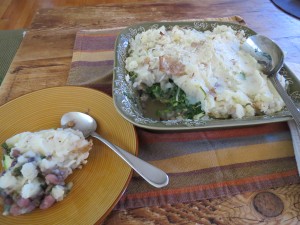 | | |
| --- | --- |
| Serves | 2-3 |
| Prep time | 10 minutes |
| Cook time | 1 hour |
| Total time | 1 hours, 10 minutes |
| Website | Darshana's Kitchen |
Ingredients
1/4 cup water
salt (as per taste)
1 pinch black pepper powder
The Base
1 cup beans and lentils medley (pre-soaked)
1/2 teaspoon cumin powder
1/2 " ginger (grated)
The Filling
1 Medium zucchini (thinly sliced lengthwise)
3 cups spinach (finely chopped)
1/2 teaspoon lime juice
1/4 clove garlic (crushed)
The Filling
(Optional)
The Topping
2 Medium russet potatoes (boiled with skin)
1/4 onion (thinly sliced)
Directions

The Base
1.
Cook the beans & lentils mix with cumin powder, ginger and salt in 1 cup water for 20-25 minutes till the beans are cooked. Layer a baking dish with the mix.
The Stuffing
2.
Layer the zucchini slices over the beans and lentils mix.
3.
In a mixing bowl mix well together the spinach, lime juice and garlic. Layer this on top of the zucchini.
4.
Mash the potatoes lightly in a bowl, add the salt, black pepper powder and the onions. Mix well and layer on top of the spinach, covering the dish completely.
5.
Preheat the oven to 350 degrees. Bake the dish for 35-40 or till the top as browned a bit. Serve hot.