This recipe came about when I was on a $5 Dollar a Day challenge.
I had some potatoes, cabbage and beets, and a limited number of spices. In the end it turned out to be a delicious and warming soup! I think it was the unusual combination of pizza seasoning and ginger that did it.
Serve it with cooked grains, or like I did, with corn tortillas and diced avocado.
Borscht

Print recipe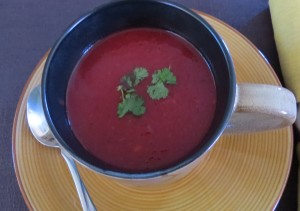 | | |
| --- | --- |
| Serves | 2-3 |
| Prep time | 5 minutes |
| Cook time | 35 minutes |
| Total time | 40 minutes |
| Website | Darshana's Kitchen |
Ingredients
2 Small purple potatoes (big pieces)
2 Small beets (big pieces)
1/4 Medium cabbage (big pieces)
1 tablespoon pizza seasonings
salt (as per taste)
1 tablespoon lime juice
1 tablespoon cilantro (finely chopped)
1 pinch black pepper powder
1/2 " fresh ginger (grated)
Directions

| | |
| --- | --- |
| 1. | Place the beets, potatoes, cabbage, pizza seasoning, ginger and black pepper powder in a pot with 2 cups of water. |
| 2. | Cook till the beets and potatoes are completely cooked, about 25-30 minutes. |
| 3. | Add salt and lime juice and some more water as needed. Cook for another 2-3 minutes. |
| 4. | Add the cilantro and serve hot. |